Icarus Skin Cancer Clinic
Dr Mike Inskip is dedicated to skin cancer prevention and treatments.
Diagnosing skin lesions with Dermoscopy
Dr Mike Inskip uses the most up to date and highest quality Fotofinder Vexia digital dermoscopy system to accurately diagnose skin lesions.  Dermoscopy is high resolution examination of the skin surface under magnification and bright illumination.  It permits more precise identification of skin lesions and reduces unnecessary surgical excisions.  Dr Mike Inskip is expert in the use of dermoscopy.  Clinical and dermoscopic images are kept on file for future comparison.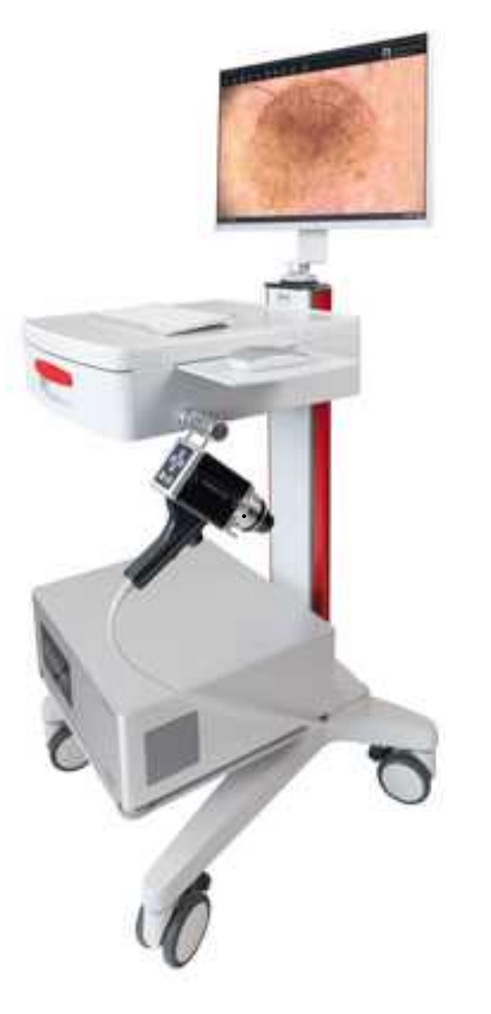 An Experienced Doctor
Dr Mike Inskip is an expert in his field. He has been working full time primary care skin
cancer practice since 2008. He has performed some 13,200 procedures and diagnosed
approximately 3,700 basal cell carcinomas, 1,850 squamous cell carcinomas and 802
melanomas. Dr Inskip is well versed in both the surgical and non surgical management
of skin cancers.  He is an experienced surgeon and undertakes a full range
of procedures including simple elliptical excisions, flaps and grafts.  90% of skin cancers
diagnosed can be treated in the clinic.
We Provide Personal Service Every Day of the Week
Dr Inskip is currently the only doctor working at Icarus Skin Cancer Clinic assuring that
when you book, you will not be diverted to another doctor. He is available every day
Monday to Friday from 10.30am till 6pm.
We Run On Time
We understand the frustration of attending appointments on time, only to find that the
doctor is running late.  Please understand that running on time is a top priority. Dr Inskip
does his very best to show the courtesy of always trying to run on time. Our waiting room
is a quiet, comfortable place but we will not keep you waiting long.
High Quality Accessible Premises
We have the very best quality equipment and facilities. There is easy access from a
large car park at rear of building with disabled spaces immediately next to the doors.
There is also ample on street parking. Koo Wee Rup is a quiet town and you will not
have to fight through heavy suburban traffic to get here.
Icarus Skin Cancer Clinic is dedicated to looking after you in the prevention, identification and management of skin cancer.  
Dermoscope Assessment
A dermascope is a special microscope used in skin examinations. It allows the operator to see structures within the skin which helps with the diagnosis of skin cancers. This enables Dr Inskip to determine the next course of action regarding any suspicious lesions or moles often reducing the need for surgery.
Skin Imaging
During the examination, photographs are taken to enable a comprehensive diagnosis and management of skin cancers.  These are also kept on file for future comparisons.
Images Seen During Dermoscopy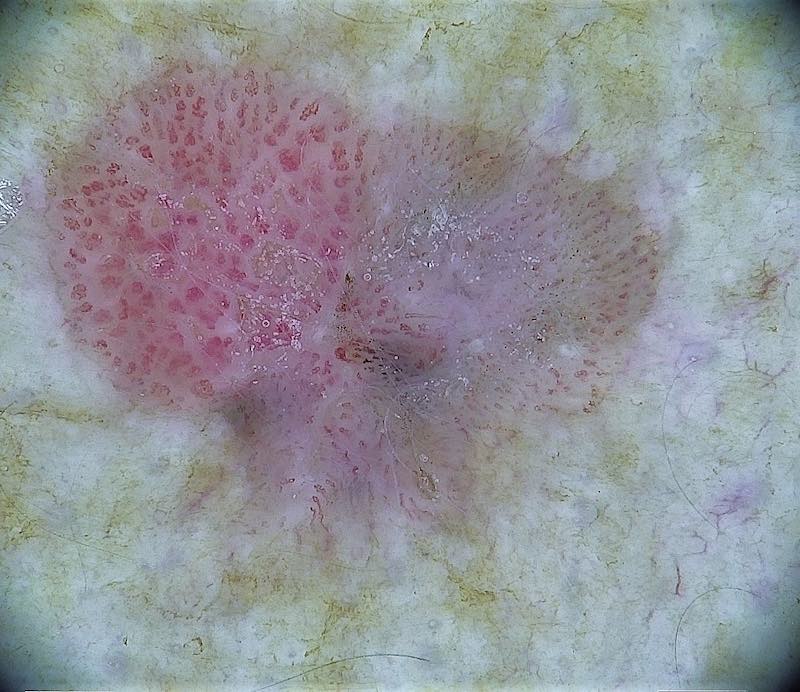 Coiled Blood Vessels Indicate Squamous Cell Carcinoma in Situ
' Spoke Wheel Like Structures ' Indicate a Basal Cell Carcinoma
Pigmentation and Polymorphic Blood Vessel Pattern Indicates Melanoma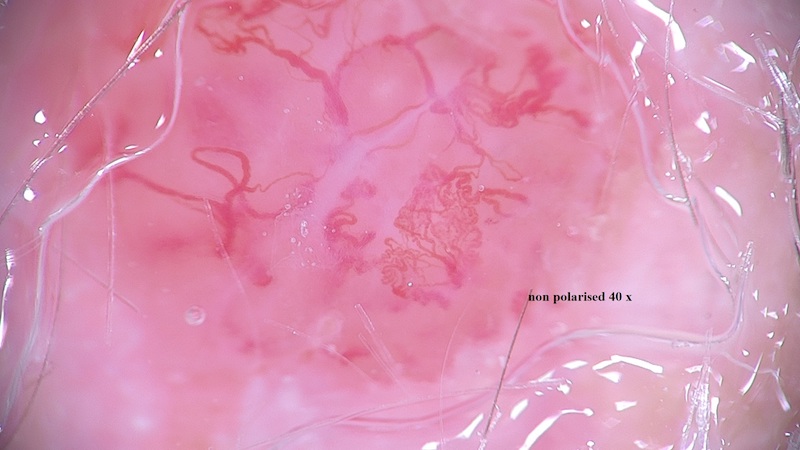 Complex Loop Vessels Indicate a Nodular Basal Cell Carcinoma.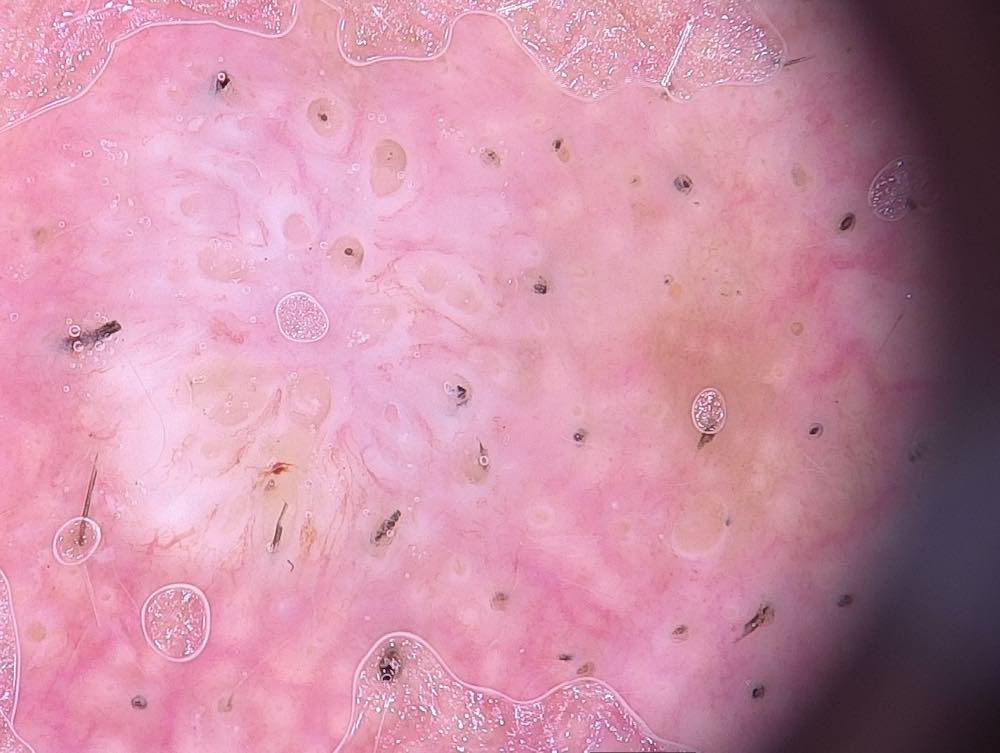 White Circles Typical of Squamous Cell Carcinoma
About Dr Mike Inskip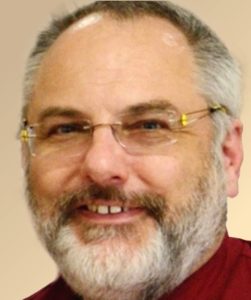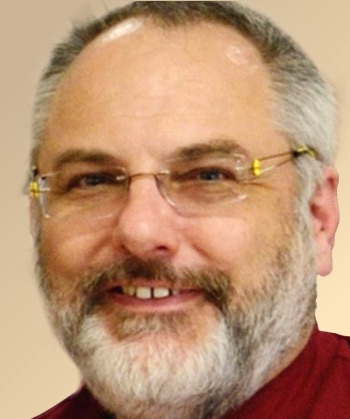 Dr Mike Inskip undertook his medical training in Manchester UK, qualifying in 1987.  He worked for many years in general practice in the UK and New Zealand.  In 2007 he moved to Australia with the specific intention of pursuing his interest in primary care skin cancer medicine.  Since 2008 he was worked exclusively in skin cancer medicine and undertook further training with the University of Queensland and Skin Cancer College Australasia.
He is now considered an expert in this field having performed some 12,000 procedures.  He has so far diagnosed some 3,500 basal cell carcinomas, 1,600 squamous cell carcinomas and 750 melanomas.  He holds Advanced Certificate of the Skin Cancer College of Australasia and holds the title of Senior Lecturer at the School of Medicine, University of Queensland.  He has written numerous reports and academic studies on skin cancer and dermoscopy.  His interest in this field continues as an active participant with the international Dermoscopy Society.
Dr Inskip is well versed in both the surgical and non surgical management of skin cancers.  He is an experienced skin cancer surgeon and undertakes a full range of procedures including simple elliptical excisions, flaps and grafts.  90% of skin cancers diagnosed can be treated in the clinic.
On a personal note he is married to Dr Jane Mackie, a local GP and has three children in their late teens / early 20s.  He enjoys nature photography and collects the antique Australian bird prints of John Gould.
About Dr Bruce Lim
We are very happy to announce that Dr Bruce Lim will be joining our team. He will be starting in mid May and will welcome new patients.
Bruce is originally from Malaysia and studied medicine at Monash University.  He speaks English, Malay and Mandarin and understands Cantonese.  
Bruce is an accredited skin cancer doctor and proficient in all surgical skin cancer treatments including flaps and grafts.  His skin cancer qualifications are as follows:
Certificate of dermoscopy
Advanced clinical certificate of dermoscopy
Certificate of skin cancer medicine and surgery
Advanced clinical certificate of skin cancer medicine and surgery
He has also attended advanced skin cancer surgery workshops
Bruce is a father of two young boys and is expecting a 3rd child soon.
STORY OF ICARUS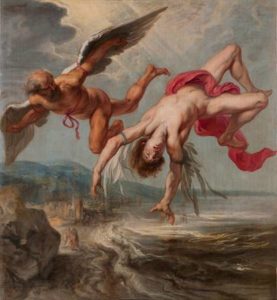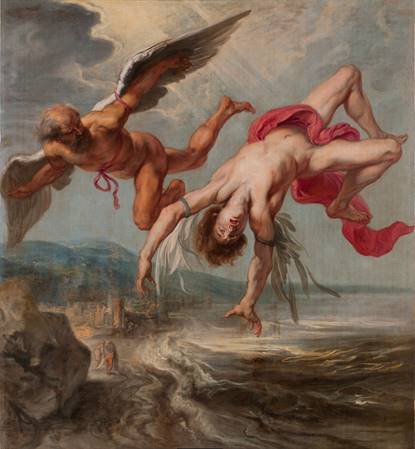 In Greek mythology Daedalus was a master craftsman commissioned by King Minos of Crete to build a great labyrinth to imprison the monstrous minotaur.  Daedalus and his son Icarus were then themselves imprisoned by the king.
Wishing to escape Daedalus fashioned wings of feathers and wax to fly away from the island.  Icarus was warned by his father not to fly too high to prevent the heat of the sun from melting his wings.  Out of hubris Icarus ignored this advice, his wings melted and he fell to his death into the sea.  The Fall of Icarus has been a popular cautionary tale in European culture ever since as a warning against unbridled ambition and pride.  In our clinic we use the name to encourage Australians not to overlook the dangers of the sun.  In our logo Daedalus and Icarus are represented by wedge tail eagles which are often seen in the skies above Koo Wee Rup.
Full-body Skin Examinations
Skin Examination Process
The skin is the largest organ of the body and should be examined in it's entirety under bright illumination to maximise the chance  of finding skin cancers.  During a routine 20 minute appointment Dr Mike Inskip will thoroughly inspect your skin surface looking at all lesions using a dermoscope and taking digital images where necessary.  He will ask you to undress down to the underwear and work through each section of the skin in a systematic manner.
Please avoid wearing any makeup on the face or elsewhere.  This includes tinted moisturiser or any other similar coloured cosmetic product.  This is extremely important as it is not possible to see through make up and this can lead to failure to diagnose dangerous skin cancers.  If possible try to remove nail polish from both the fingers and toes.
At the end of the examination Dr Inskip will clearly identify any lesions of concern and discuss how to manage them.  Fortunately most of the time, there will no lesions of concern, and all that will be required is a further regular check in 6 months or a year.  He will need to see you more frequently if you have a higher risk of further skin cancers.  If there are suspicious lesions a punch or shave biopsy may be done at the time of the initial skin check.  This involves taking a small sample of skin under local anaesthetic.  If any surgical excisions are required Dr Inskip will usually ask you to come back for seperate surgery appointment within a few days.  A letter will always immediately be sent to your GP to keep them informed at every stage.  Dr Inskip considers it most important to keep your family doctor fully informed. 
Running on Time
 Dr Inskip does his very best to show the courtesy of always trying to run on time.

Your Skin Check Starts Here
We are open every day from Monday to Friday between
10.30am and 6pm
Call — 1800 ICARUS or 5925 2000
or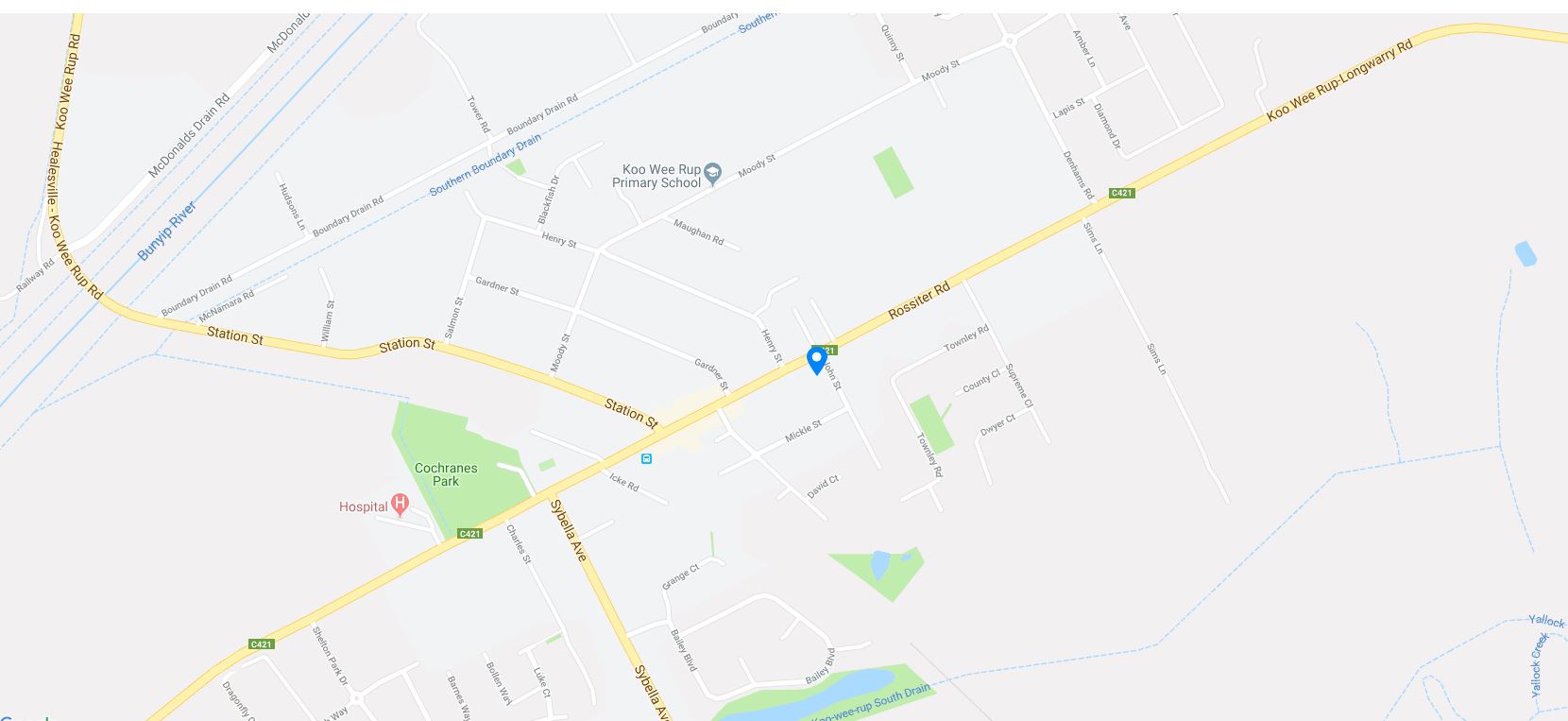 Call the clinic now to make an appointment
Suite 4, Ground Floor, Hollander House, 352 Rossiter Road, Koo Wee Rup, Vic 3981
reception@icarusskincancerclinic.com.au